Grammy Award Winning Marketing
If you haven't heard of Chance the Rapper by now, then unfortunately for you you're living under a rock. At the young age of 23, Chance cemented his mark in music industry history at the 59th Annual Grammy Awards. He became the first independent artist to win a Grammy. He won a Grammy without selling a single physical copy of music. And he didn't just win one Grammy, he won three (Best New Artist, Best Rap Album, Best Rap Performance).
How did Chance pull this off? Was it luck? Luck doesn't help you beat out music powerhouses in the likes of Drake, Kanye West, and DJ Khaled who each had heavily marketed albums backed by giant record labels. This wasn't by chance (see what I did there).
His musical genius is certain, but is Chance a marketing genius as well?
 The value of free
They say the best things in life are free, and Chance has backed that saying up three times now with three free mixtapes. Chance offered his most recent mixtape, "Coloring Book," for free exclusively on Apple Music. By offering his music for free, Chance was able to spread it to as many people who were willing to give it a listen. Without the price tag, fans and soon to be fans were able to listen to the album risk free and could easily share it with friends. The album spread like wildfire and "Coloring Book" reached to No. 8 on Billboards charts and was the first streaming album ever to do so. Offering quality music for free lets Chance connect with current and future fans who may love it enough to make supportive investments in his music in the future. I mean it won the Grammy for Best Rap Album for a reason, right?
Fans as brand ambassadors 
Chance has always kept close ties with his fans through social media by offering discounted merchandise, early concert tickets, exclusive content, and inside looks at his life. Leading up to the release of "Coloring Book," Chance's fans returned the favor by becoming a living, breathing marketing tool. Chance harnessed the power of his loyal fans to market the new mixtape by giving fans the opportunity to purchase posters of the album cover to hang in their own cities. Eager fans could not wait for the highly anticipated album and quickly followed suit to spread the hype. It became a massive hit and the album cover began showing up in cities across the country from New York to San Francisco. The posters cost $20 for a three pack and Chance encouraged fans to post photos of where they hung them on social media. Chance was gaining exposure for his mixtape and reaping the benefits of guerilla marketing for the same amount of money he charges for his songs, exactly $0.
Customizable merch
Promotional apparel is a critical piece of an artist's brand. No surprise here, Chance also takes a unique approach when it comes to his merchandise. Instead of offering the standard, album cover attire that every artist does, he allows fans to customize t-shirts, sweatshirts, and hats directly on his website. Fans can choose shirt colors, design colors and sizes for their Chance swag. In doing so fans feel like they have one of a kind apparel, while staying in the lane of Chance's "Coloring Book' theme. This marketing tactic allows fans to share and spread their love of the Chance brand while also being able to have free range over their own personalized, creative flare.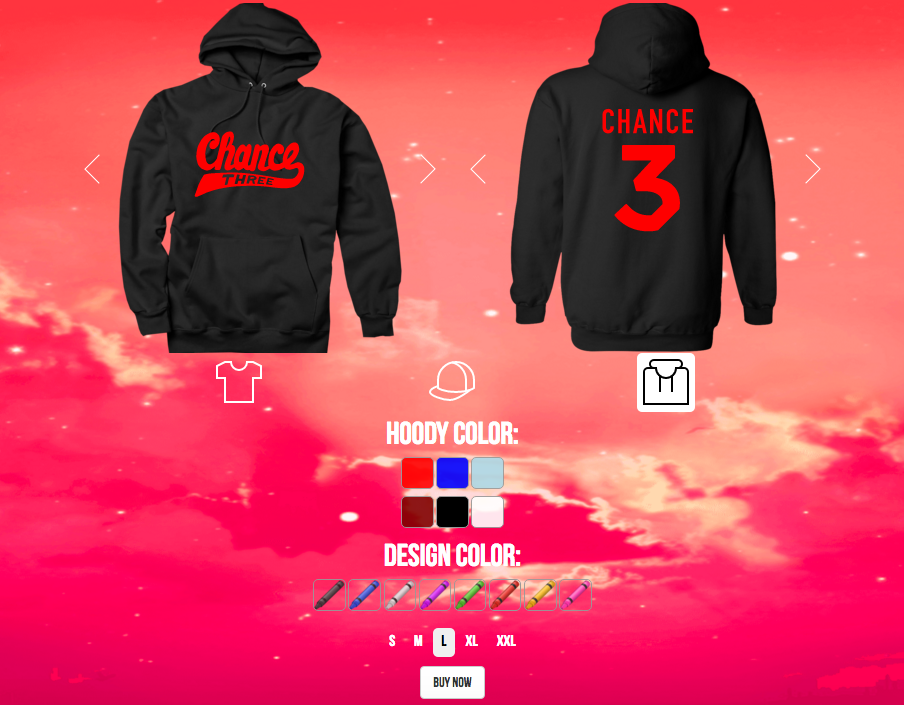 As an independent artist, Chance the Rapper has broken down barriers and reached uncharted territory in the music industry. Chance has also proven to marketers that even on a limited budget, or in his case a budget of zero, anything is possible and your marketing efforts can still have an immense impact. It is undoubtedly true that Chance's musical talent has skyrocketed him to superstardom, but it's his simple, yet extraordinarily effective, marketing tactics that aided him to elevate his independent brand and spread his music to the masses.
Keep in Touch
Want fresh perspective on communications trends & strategy? Sign up for the SHIFT/ahead newsletter.